Comparing Asana and Monday is not easy. Each app has functionality that the other does not, but the differences between the two occur at a high level of detail. In this comparison we focus on something much more critical to your business....
Before we get into the nitty-gritty of the Asana vs Monday comparison, it's important to understand the important change management aspect of implementing a new tool to manage the work of your team or organisation. I will expand on this thought in the next paragraph
Add a header to begin generating the table of contents
A comparison of project and work management apps: Asana vs Monday
Virtually every 'leading' task/project/work management app has an almost identical feature set. Preparing tables with a comparison of functionalities is pointless – you can find them on google by typing Asana vs Monday.
So we will focus on the most relevant issue. What should guide your choice of software.
Before starting, I have to mention that the text below is biased, as I ultimately chose Asana out of the 2 systems and am currently basing deep transformations on it.
So what are the…
Existing comparisons on the web and their main problem
If you've searched for reliable comparisons on Google, you've probably noticed that the conclusions of each of them are contradictory or at least abstract, e.g:
Asana offers more advanced visualisation features, while Monday offers more design visualisation options.
Review the comparison on the business card pages of both apps:
you will come to the conclusion that each site, although showing how much better it is, ultimately offers the same functionality, just wrapped in a slightly different interface.
And that is the main difference.
What is the real difference between the two systems?
If we already agree that the two systems differ mainly in their interface, we need to consider what parameter should determine the choice.
Since the amount of functionality is not the most important indicator….
What then?
The right question you should ask yourself is: will people use it?
If so, then ask: For how long?
In fact, tools are just the tip of the iceberg: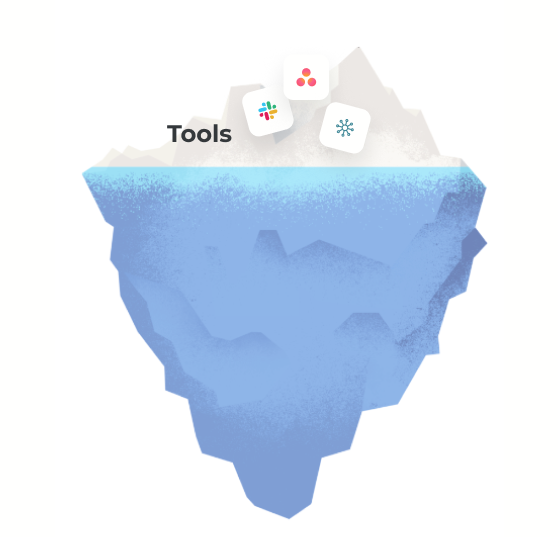 The platform is part of the whole work system (iceberg), and all aspects of it are equally important. And it is these invisible layers that affect how your team and ultimately the whole organisation works together.
Your work system consists of:
Realising this is key to realising the full potential of the team and to creating an environment where all these elements are in harmony with each other.
This is the conclusion I and the other consultants I currently work with have come to.
For full comparison, we are still left with
A look at the weaknesses of Asana and Monday
For this, it is useful to reach out to the comments and user reviews of both apps.
The most reliable source will be the TrustRadius portal and the past experience of our customers.
Monday's problems
Automations are tied to the users who create them, so they need to be re-created if there is a change in staff or a change in team roles.

Collaboration on documents is not as smooth and seamless as in Google Docs – internal editing and collaboration tools are limited and it is better to stay with the trend-setting editor from Google.

A problem that doesn't seem to be going away for now is the stability and speed of the app. Monday is an app that has been on the market much shorter and invests mainly in marketing and sales. At the same time, Asana, despite having a mature product, invested 2.6x more in R&D than the aforementioned Monday (figures are from reports available to investors) last year. One of our clients decided to switch to Monday because of the greater number of features, only to return after a few months, precisely because of the instability in data access. Here are just a few reviews taken from TrustRadius (in the original transcript):
The mobile app sometimes gets glitchy when our field managers are on the go. Sometimes, filters they have set in their app, cancel out or change to filters of other managers.
There are times that monday.com loads faster, and there are times that it loads slower… I'm not sure if that is network congestion at our end or at monday.com's end. It could be either.
Performance: bugs and moments of system down are still quite recurrent
Asana is flexible in terms of the size of the organisation in which it is used – it can serve teams of 10 people as well as entire corporations. On top of this, a user of this platform has free access to over 200 integrations (vs 40+ for a competitor) and a reliable API – something Monday charges for in some cases (increasing as the number of users in the workspace increases).

The aforementioned costs are predictable from the start thanks to a transparent pricing policy and no hidden costs. In case of Monday.com, you may be surprised by additional charges for file storage, integrations, automations and dashboards.

The user interface is more difficult to tame and thus delays adoption. Of course, this is a matter of tailoring to the team's preference, but in our experience many more teams stay with Asana permanently than with Monday. The interface design and database structure does not allow for a holistic view of the entire organisation, creating silos between divisions. Scaling an organisation in Asana, on the other hand, is possible even if it started with one team and a Premium plan. As you grow, the same archive data can be used to learn lessons for the future, and work management extended with functionality such as organisation-wide goals or individual employee workload management available in the Business plan.


Asana issues
The ability to assign a task to only one person. Asana has held tight to this since the app's inception, despite the enormity of users asking for a change. On the surface an inconvenience, but in practice this design decision makes it difficult to dilute responsibility.

Exporting projects to CSV format does not always produce predictable results. Of course, this depends on whether you ever need to see the project in excel or move it to another workspace.

Native synchronisation with the calendar allows you to add tasks as all-day, skipping the hourly range. Only integrations arrange tasks into the corresponding block of time in Google or Outlook Calendar.
Ultimately, the speed and longevity of adoption of both tools remains an issue. In this context, Asana is winning and will remain at the forefront of the race if it continues to invest in the development of the app and not just in marketing the product.
Before I decided to implement Asana in organisations, I was its beta tester in 2011. And it wasn't the only software I tested in parallel in ventures and teams of which I was a member.
In those bygone days, the competition was not so strong:
Evernote, which was more like a notepad, even though it pretended to be a system for implementing GTD (Getting Things Done),
Todoist/Wedoist, which was too simple even for managing a small team,
Springpad, which eventually collapsed,
and a few others.
Later, much stronger competitors emerged:
Dapulse (later rebranded as monday.com)

Clickup
However, the maturity of Asana, the number of possible integrations, and also the great ease of implementation and remaining at the centre of communication in the teams where I worked decided to choose this tool as the foundation of our framework:
Asana, on the other hand, is just one part of the whole jigsaw of an efficient organisation. We see the potential that teams gain with its introduction.
What's more, we participate in the regular support of more than 80 organisations that have chosen to implement it with our help.
In our view, Asana perfectly initiates a change in habits and thinking about goals, projects and tasks.
Therefore, at Remote Sensei, we combine the hard skills of using Asana's functionality with the soft skills of team members such as self-organisation, life and work balance and building co-responsibility between employees.
Ultimately, together with Asana, we impart project management experience, restore the desire for action and ultimately create an environment that is 'easy to work in'.