Few work management tools are built around modules like Ready. It's a convenient way to select only useful functionality. Find out where it will work and where it won't.
A comparison of project and work management apps: Asana vs UKG Ready
Virtually every 'leading' task/project/work management app has a similar feature set. This includes applications such as Asana, Click up, Monday or Bitrix24.
The original intent of the Ready app was to support teams with workflow.
The app does not work well as a work environment for multiple teams and a single source of truth within an organisation. However, it can be extended with further functionality on a modular basis.
In what follows, you will not only find a comparison of the functionalities of the two tools, but also a reference to the most important issue – what should guide you when choosing work management software.
What are therefore the …
Existing comparisons on the web and their main problem
If you've searched Google for reliable comparisons, you've probably noticed that there aren't any. That's because the Ready app is not yet a widely reviewed software.
By reviewing the comparisons on the business card pages of the two apps, we have selected the 2 best ones that, when viewed, will give you an even better understanding of the differences between the tools:
What is the real difference between the two systems?
If we already agree that the two systems differ mainly in their interface and functionalities, we need to consider what parameter should determine the choice.
The right question you should ask yourself is: will people use it?
If so, then ask: How long?
In fact, tools are just the tip of the iceberg.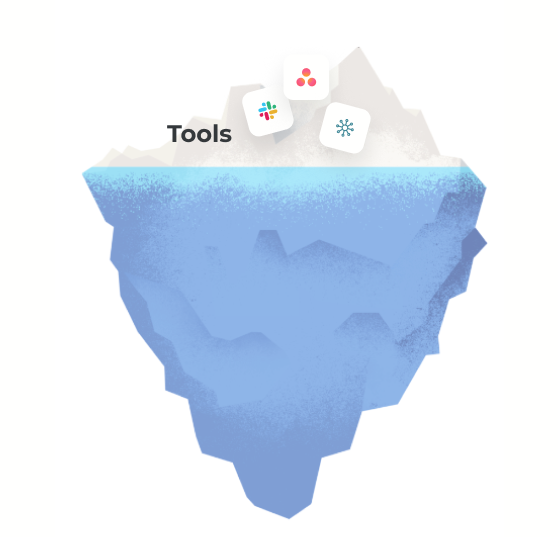 The platform is part of the whole work system (the iceberg), but all aspects of it are equally important. It is these invisible layers (the log mountain under water) that affect how your team and ultimately the entire organisation works together.
They consist of:
Comprehending this is the key to realising a team's full potential and creating an environment where all these elements are in harmony with each other.
I have come to this conclusion together with the other coaches I currently work with.
You already know how important the 'human factor' is in making further decisions.
Even so, I guess that you really want to see the technical differences between the tools.
For a full comparison, we are still left with…
In order to illustrate the key differences between these tools, we have selected important areas where a colossal gulf separates them. This does not mean that either tool is better than the other. They will, however, suit your needs to varying degrees.
The intention of the application creators
Asana: designed to manage different types of projects, with no restrictions on their specificity or type of industry.
UKG Ready: the focus on workflow and personnel handling is striking in this tool. More than a virtual working environment, it is therefore a virtual filing cabinet. The names of the modules of which the application is composed indicate the purpose of the system: Projects, Intranet, Invoice Circulation, Working Time, Purchase Requests, EZD, Office, Holidays, Delegations, Payments, Pipeline, Contracts, Budgets, Sales Invoices and Purchasing.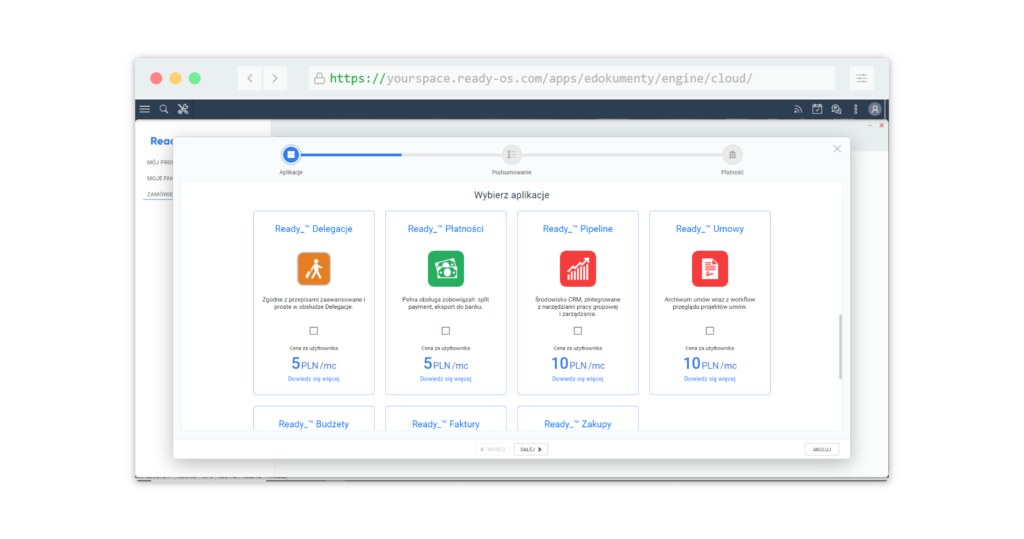 Structure of the tool
Asana: is an "all in one" solution – depending on the plan, it has built-in functionality but can be integrated with hundreds of external applications.
Ready: a system built on the principle of modules. Selected modules are purchased from the Ready AppStore. There are 15 in total.
Licence costs
Asana: has a transparent price list which includes the cost of the licence per user depending on the plan (Premium, Business, Enterprise).
Ready: complex price list structure – the licence cost is made up of the basic price per user + the cost of individual modules per month. The basic user price is in turn made up of different licence types.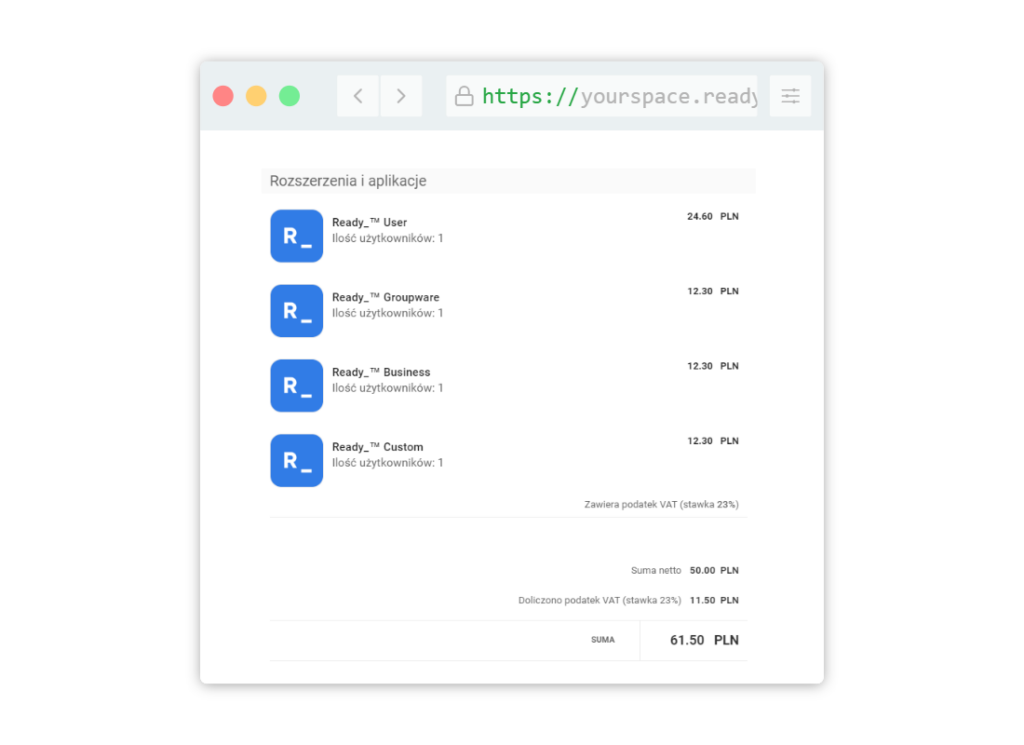 What is more, in the section of the panel used to purchase selected modules, we also see the option to purchase an additional package:
However, it is not clear what exactly this option applies to and which applications require it: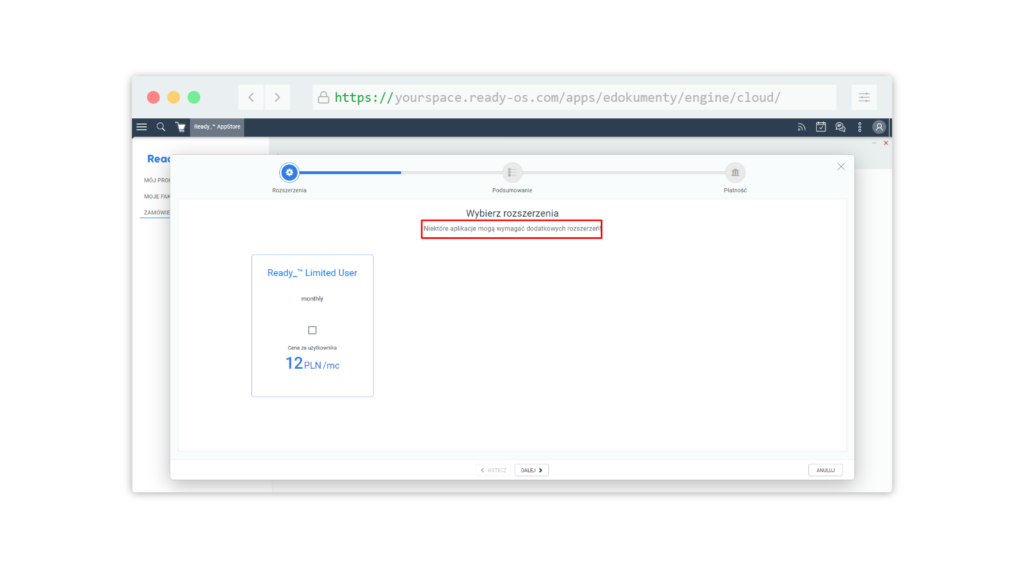 So if your organisation/department handles HR or purchasing, Ready can be a useful tool.
On the other hand, a project dedicated to handling holiday requests, time-keeping or invoice workflow can be created in Asana with a few clicks. You will also be able to automate it and fully adapt the workflow to your needs, and the monthly user cost will be lower than the approx. PLN 100/month that you have to spend in UKG Ready.
I think it's becoming clear now….
Before I decided to implement Asana in organisations, I was a beta tester for it in 2011. And it wasn't the only software I verified in parallel in ventures and teams I was a member of.
In those bygone days, the competition was not so strong:
Evernote, which was more like a notepad, even though it pretended to be a system for implementing GTD (Getting Things Done),
Todoist/Wedoist, which was too simple even for managing a small team,
Springpad, which eventually collapsed,
and a few others.
Later, much stronger competitors emerged:
Dapulse (later rebranded as monday.com)

Clickup
However, the maturity of Asana, the number of possible integrations, as well as the great ease of deployment and remaining at the heart of communication within teams, led us to choose this tool as the foundation of our framework:
Asana, on the other hand, is only one part of the whole jigsaw of an efficient organisation. We see the potential that teams gain with its implementation.
What's more, we participate in the regular support of more than 80 organisations that have already implemented it with our help.
In our view, Asana perfectly initiates a change in habits and thinking about goals, projects and tasks.
Therefore, at Remote Sensei, we combine the hard skills of using Asana's functionality with the soft skills of team members such as self-organisation, life and work balance and building co-responsibility between employees.
Ultimately, together with Asana, we impart project management experience, restore the desire for action and ultimately create an environment that is 'easy to work in'.
Differences in functionality of UKG Ready vs Asana
 
Asana
Ready
PODSTAWOWE WIDOKI

my tasks

✅

✅

project as a task list

✅

✅

Gantt's chart (timeline)

✅

✅

kanban

✅

✅

calendar

✅

✅

customised dashboards with statistics

✅

❌

goals

✅

❌

team overview

✅

❌

wiki

❌

❌

manager's dashboard

✅

❌

PROJECT MANAGEMENT

workload of each team member

✅

❌

portfolios

✅

❌

templates for recurring projects

✅

❌

monitoring of KPIs/OKRs

✅

❌

acceptance paths for the various project elements

✅

❌

project statuses

✅

❌

TASK MANAGEMENT
assignment of a responsible person

✅

✅

task dependencies

✅

❌

milestones

✅

❌

subtasks

✅

❌

recurring dates with auto-renewal of tasks

✅

❌

COMMUNICATION
synchronisation with calendar

✅

✅

turning an e-mail into a task

✅

✅

comments in the tasks

✅

✅

templates for recurring tasks

✅

❌

e-mail notifications

✅

✅

messages

✅

✅

reminders

✅

✅

ADDITIONAL FEATURES
 
 
budgeting

❌

✅

issuing and circulation of invoices

❌

✅

conditional rules, workflow automation

✅

❌

measuring task time

✅

✅

report creator

✅

❌

CRM/Customer database

✅

✅

sprint management

✅

❌

attachements

✅

✅

cloud attachements

✅

❌

cost control

❌

❌

invoices

❌

✅

information on user leave

✅

✅

interface customisation

✅

❌

document management

✅

✅

history of changes

✅

❌

integrations

✅

❌

2-step login

✅

❌

customer login as a guest

✅

❌

monitoring project progress without an account in the tool

✅

❌