How Go2Market maintains the flow of information in a rapidly growing team thanks to Asana

Go2Market is the #1 Full-Service Amazon Agency in Poland. The team of 7 people working fully remotely (at the beginning of the transformation) managed the daily sales of 38,000 products.
The company has entered a development phase that required a significant increase in the efficiency of both individuals and the entire organization. 
| | |
| --- | --- |
| Industry | An agency supporting sales on Amazon |
| Location: | Fully remote with team members in 6 different Polish cities |
| Nr of employees: | 7 |
| Monthly budget for PPC campaign: | ~800 000zł |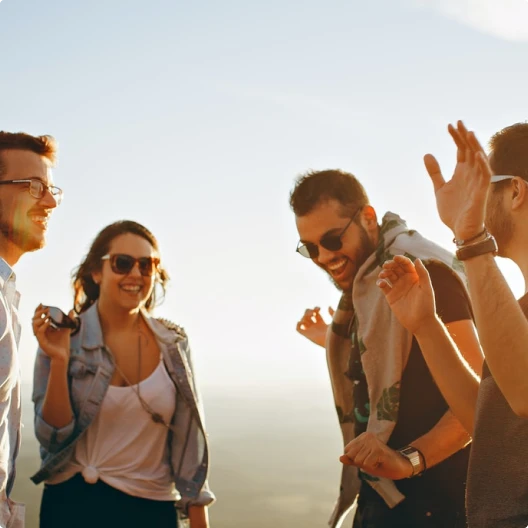 Go2Market is the #1 Full-Service Amazon Agency in Poland. The team of 7 people working fully remotely (at the beginning of the transformation) managed the daily sales of 38,000 products.
The company has entered a development phase that required a significant increase in the efficiency of both individuals and the entire organization. 
Industry

An agency supporting sales on Amazon

Location:

Fully remote with team members in 6 different Polish cities

Nr of employees:

7

Monthly budget for PPC campaign:

~800 000zł

Work toolkit:

Asana - work & project management app
Slite - internal knowledge base
Loom - screencast & instruction recording
Zoom - team chat & videoconferencing
Google Drive - file storage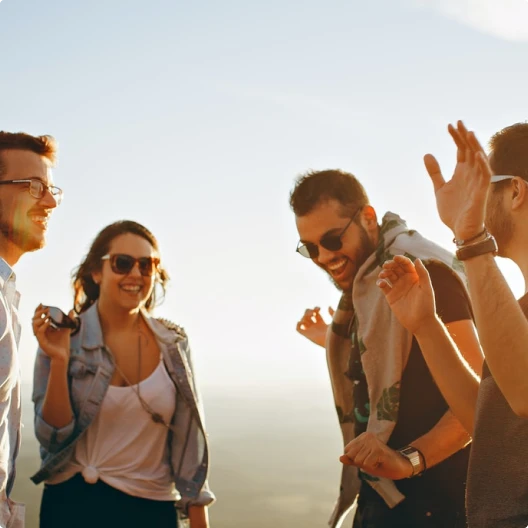 A fast-growing agency with ambitious goals created an exciting work environment. It attracted young, ambitious people encouraged by the possibility of development and acquiring exciting skills.
At the same time, imparting knowledge to new people was a huge challenge. Everyone was focused primarily on achieving results for clients, so their involvement in onboarding new team members reduced the efficiency and effectiveness of daily duties.
The implementation process was additionally slowed down by the fully remote nature of the work culture.
With time, the lack of structured onboarding began to slow down the organization's development.
Internal and external communication was based on e-mails, hindering the flow of information between members. It led to chaos as valuable information was lost in the maze of messages, and priorities started to blur.
The agency's founder worked in business; that is, he performed an employee's tasks. Instead of focusing on growing his business, he spent time writing back to customers. Thus, it has become a communication bottleneck. Nothing is surprising here because the transition from being a sought-after expert to the owner of an agency employing specialists is complex and requires many mindset changes in the owner and the organization's setup.
3 stages
of Go2Market's digital transformation
Understanding the problems and establishing transformation plan
The beginnings are not easy, and in the case of Go2Market, the transformation process was profound and multi-faceted. It had to cover all spheres of work organization. Therefore, it required an in-depth problems understanding of both the company and each employee, together with the specifics of the organization, task management, challenges and priorities.
In the first stage, one of the most important things was to convince employees to change their current habits. It always requires a significant modification in the way of thinking, not just the work itself. The commitment of all and their deep faith in the success of digital transformation was necessary to carry it out.
01.

Understand

to be understood
The involvement of team members from the beginning of the changes was crucial to the success of this project. Asking about their point of view on the present situation gave them a sense of control over a changing environment.
Thanks to his focus on development, the CEO was open to honest employee feedback.
This gave us complete freedom in discovering blockages during the implementation of Asana – both in mindset and in the configuration of the existing toolkit.
During the research stage, we dived into the problems of each employee. We focussed on both the processes in the company and the organization of each employee's tasks. We did not stop asfing deepeening questions until we got an honest answer and discovered their actual habits and issues. The answers gave a complete picture of the challenges in the organization.
We asked employees questions such as:
The CEO, equally involved in this process, also answered the following questions:
The answers led us to the challenges we faced in the following stages of transformation. We also achieved the intended effect, i.g. employees willingly made changes in their way of acting to create a better workplace.
They felt a sense of unity when they shared their suggestions and deeply hidden needs. Mutual understanding ultimately translated into accepting the direction of changes given by the CEO.
02.

A vision of transformation

that is safe for SEO and employees
A transformation of this type can be compared to going by boat from Europe to America for the first time. At one point, the entire crew loses sight of the Old Land. Months pass before they see a new one.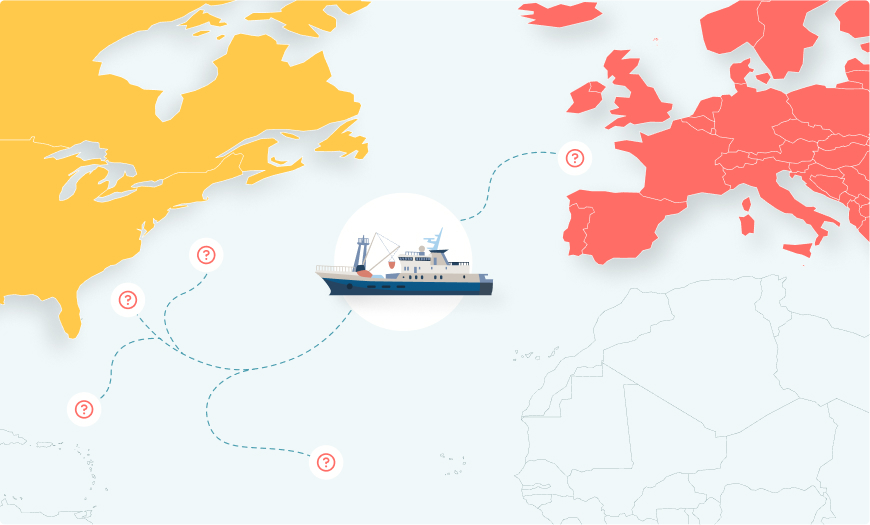 Our goal at this stage was to paint such a picture in the minds of all organization members, including the CEO. In other words, we started with a vision of the end. During this time, the only thing that keeps them in a positive mood is a clear vision of changes and the target situation.
An in-depth audit allowed to identify structural, organizational and cultural problems, as well as to define their priorities and the order of solving.
It also led to an understanding of the company's needs for the use of digital project management and communication tools.
Involving employees in the problem analysis process aroused their commitment and a deep need for change. 
Getting the wind in sails, i.e. implementing tools
What have we done? It was the most intense stage of work. It required multifaceted action. Changing the method of management and tools required working on the best practices as well as the elimination of old habits not adapted to the needs of organizations and employees at the same time. Mindset changes are difficult and time-consuming.
2 months of training and meetings, enabled to implement and synchronize tools corresponding with the needs of a dynamically developing company. At the same time, we conducted consultations on self-organization and control of working time as well as techniques of working in deep concentration.
The digital tools implemented in Go2Market are among the most developed platforms, thanks to which they enable the organization of completely remote teams.
01.

Asana

enters the stage
Along with the mindset changes, organizational changes took place.  
Paper cards methodology was eliminated – a real pieces of paper transformed into a list of tasks in Asana..
Moreover, an interview conducted at the beginning of the cooperation showed that team members have an unsynchronized way of operating based on disjoint systems, including paper notebooks and calendars. This meant that the work itself was performed by 2 people in parallel. All these forms, being already habitual aproaches, have been replaced by Asana tasks that made it possible to understand who is doing what presently and in the near future. They also showed the workload of each team member.
Now, optimised Asana interface directs team members not only to what information they want to convey (which is often unproductive and only wastes others' time), but also what effect they want to achieve with it. .
But that's not all …
In order to achieve the maximum potential, as one coherent organism going in one designated direction, its individual cells – i.e. team members – learned the secrets of self-organization.
Together, we have designated time windows divided into:
02.

Translating

organization structure and projects into Asana architecture system
Based on Phase 1 responses, a structure of teams, projects, and task templates has appeared in the Asana workspace.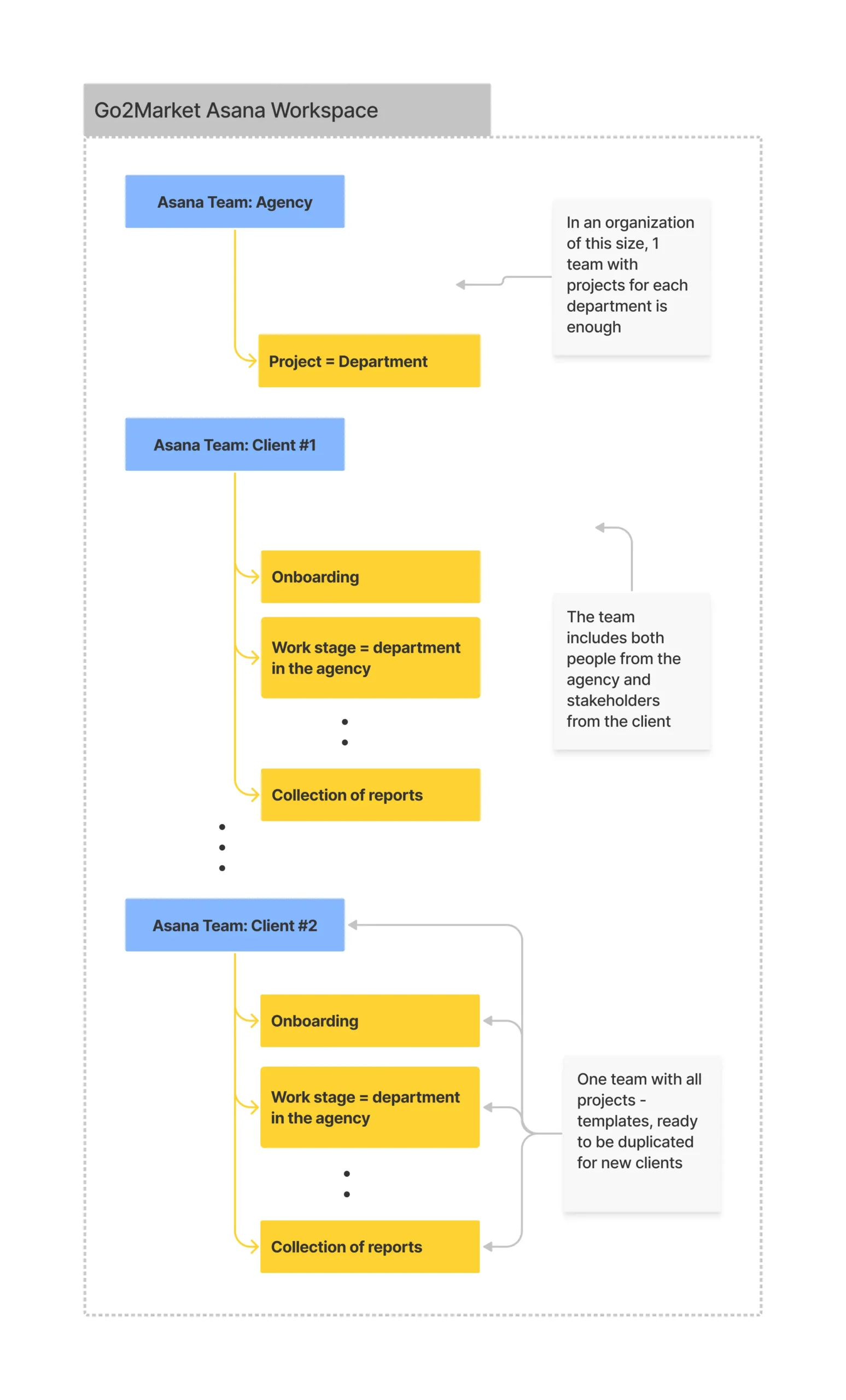 03.

Slite and Zoom

reduce on-boarding time
The lack of appropriate tools for organizing work in a rapidly growing company has consequences when hiring new employees.
One of two situations occurs:
The bottleneck in the transition from being an expert to hiring experts is precisely the transfer of knowledge and developed procedures. Meanwhile, the existing know-how makes customers come and stay longer.
During the transformation, Go2Market members entered a higher level of knowledge sharing. The inner eagerness to learn was already there. It remained to scale these intentions.
Using the very user-friendly interface of Slite, a platform for building and storing Intellectual Property, members of the organization began to organize what they conveyed synchronously in virtual one on one meetings.
Complementing the written text (which does not have to be a natural form of sharing knowledge for everyone) have been changed for screencasts, i.e. Loom – recorded information of what is happening put on the screen with voice commentary. 
It couldn't be easier to show new employees how to use a given tool to e.g. support a client's e-commerce application than by mapping all steps one to one. After all, one picture is worth a ten thousand words, let alone a few minutes long video
This allows for the new employees first check to see if what they need can be found the wiki or if they need to ask for help. And minimizes the situations in which experienced members of the organization are distracted from their duties or from working in deep concentration. 
On-boarding concerns not only the interior of the organization. 
Cooperation with the client very much depends on the framework we establish at the very beginning. A frame is a set of beliefs and principles by which people interpret reality, a specific topic, or the social interaction in which they engage. 
As in every relationship, also in the business (customer – service provider), at the very beginning there is the so-called frame fight. The stronger, more grounded, and more orderly, they win and dominate the rest of the collaboration.
That is why it is so important to establish the principles of cooperation and the method of communication on selected platforms at the very beginning.
If the client has never used a task system before, e.g. Asana, then using it will be just as difficult for him as it is for employees.
Recorded video instructions come to the rescue, to which the client can refer back even after the initial talks and arrangements are completed. This is also what happened in the case of Go2Market, which allowed to arrange processes with various types of clients.
04.

Connecting dots

- integration between tools
The proper implementation of digital tools was based on their appropriate selection to the needs of the company and synchronization of all solutions in such a way as to accelerate the processes in the company, affecting the efficiency and effectiveness of Go2Market.
04. 1

Asana + Google Drive
Google Drive was still a file repository that had to be tidied up. Then, Asana's native integration allowed you to share resources from Google's storage space and search for them without leaving the tool.
Such synchronization allows you to bypass the 100MB limit of attachments in Asana.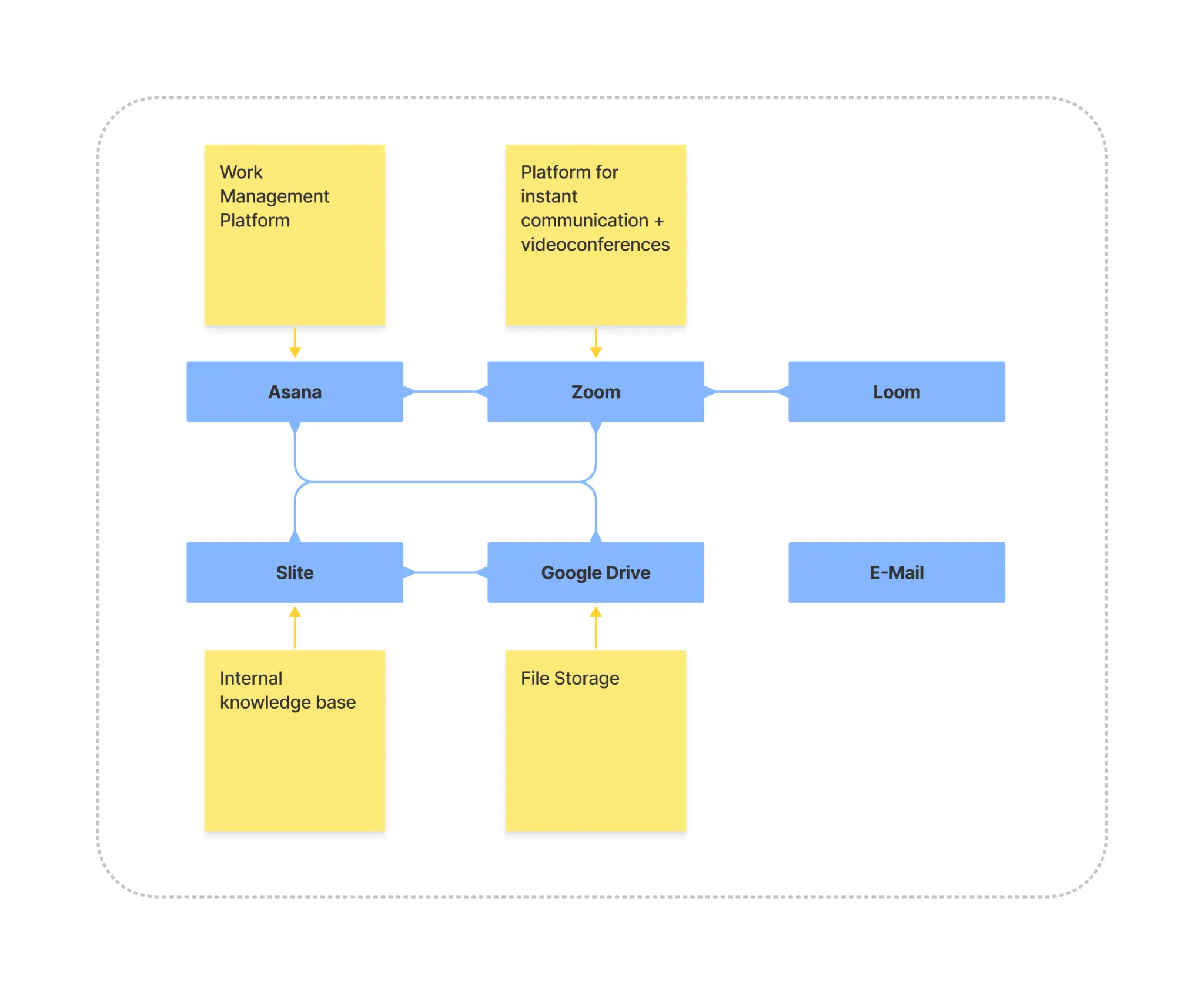 Productive meetings are those with a predetermined agenda. 
Native integration allows you to create a task in Asana with a list of topics to be agreed upon and a link to a Zoom meeting.
After starting a meeting, all subtasks appear in Zoom without having to switch between applications
So far, it is impossible to integrate the Zoom chat with Asana in the same way as with Slack, i.e. after pasting the link to the task, no preview will appear.
04. 3

Asana + Zoom + Slite
Processes in the agency began to turn into Standard Operation Procedures (SOPs).
In order to increase the involvement of members of a distributed organization and ensure better access to information, Go2Market supplemented the tools with video instructions and descriptions on the wiki, where the form of information transfer is more pleasant for the user.
Email is still the point of contact between the agency and customers. We will not jump over this. However, it was possible to optimize the transfer of important information from the email to Asana.
Currently, two methods are used for this:
05.

Agreement uniting the team

- a way to build shared responsibility and work more coherently
Each team is made up of a specific combination of personality types that give them different ways of processing and communicating information. 
In order to make the communication process consistent throughout the Go2Market organization, we have jointly created an agreement that will avoid misunderstandings in the future.
The agreement falls into three categories:
Productive and independent operation thanks to consolidated assumptions and habits
In this final stage of transformation, members already implemented frameworks for a productive, independent action and structured cooperation.
However, we continued the meetings in order to consolidate good practices of organizing individual work as well as the work of the entire team.
During several sessions conducted in weeks apart period, we also jointly solved the nuances of task management and effective customer service.

The end result of the cooperation
We summed up the work by looking at the success measures set at the beginning. In this transformation, we focused on:
| Measurment | Unit | Before | After |
| --- | --- | --- | --- |
| It is clear where and how to exchange knowledge | 1-5 point scale | 3,1 | 4,5 |
| It is clear who is responsible for what and when to deliver the result | 1-5 point scale | 3,8 | 4,7 |
| Period of time for client on-boarding | days | not measured or extending to the cooperation stage | 5-10 working days |
| The number of employees who regularly use Asana | numbers of employees | 2/7 | 7/7 |
Very Long Name of the Metrics #2
Arcu facilisi duis mauris ullamcorper gravida placerat. Dis sapien pulvinar in curabitur sit commodo enim.
Vitae sapien tristique dignissim porttitor a. Duis semper nisl posuere diam. Pulvinar vel nunc.
Nunc arcu est purus amet tincidunt. Sed justo, ac venenatis vestibulum enim, tristique aenean. Semper.
Quam risus fermentum nunc, in interdum congue quis cras. Magna dignissim lectus eget arcu. Nisl risus.
Nascetur proin quisque malesuada leo aliquet magna consequat. Venenatis quis eget at amet mi.
Est posuere at neque at ut. Mauris varius nunc, nibh mauris dui morbi. Donec sem sit tortor interdum ut.

I asked Oskar to implement Asana, but received much more. From business process review, tool evaluation and integration, initial process setup and team on-boarding, to excellent follow-up actions. We really felt his support at every step. He also introduced us to some other tools besides Asana that we currently use on a daily basis. I would keep investing in him over and over again.

Is a case study not enough for you?
Do you want to learn about all the details of digital transformation and how we can carry it out in your organization?